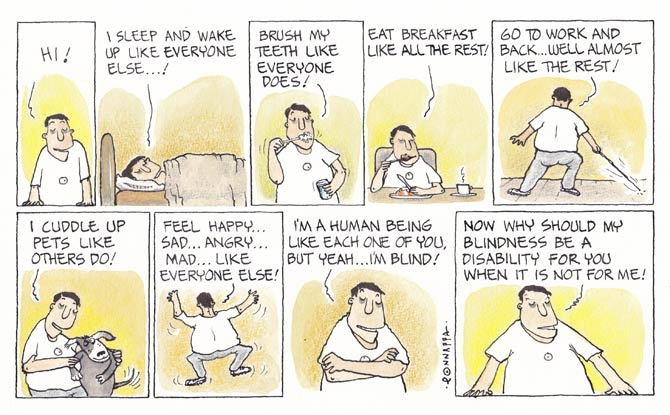 XRCVC Projects
The XRCVC is currently running two major projects to promote Social Inclusion for persons with disabilities. These are

INCLUSION AND ACCESS: THE 360 DEGREE APPROACH Supported by SBI Foundation, COE
Project X-Sight supported by Dhun Pestonji Parakh Discretionary Trust
Off to School VI Go - A Report on XRCVC's Inclusive Education Project
The XRCVC is happy to present a research report on the Inclusive Education Project for school students with visual impairment. The research was conducted by Ms Aparna Sachdev. The report aims at analysing and highlighting XRCVC's inclusive education practices and recommendations. These would be of interest to mainstream teachers and schools, special educators, organizations working for students with blindness, parents, inclusive education researchers, and all educationists who desire to be inclusive in their practice.
Off to School VI Go - A Report on XRCVC's Inclusive Education Project
Antarchakshu® 2.0 Season 5
XRCVC's flagship awareness and sensitisation initiative, Antarchakshu® 2.0 Season 5, has been launched and will run through as a series of online and offline sit-down workshops. Participants will include corporates, students, public sector officials and many others, We wish to thank Dhun Pestonji Parakh Discretionary Trust, Godrej Industries Ltd, Union Bank of India, SBI Mutual Fund, and Lawrence & Mayo, Mendonsa Foundation for generously supporting Antarchakshu® 2.0 Season 5.
Those interested in organising a workshop for their organisations may please write to sam@xrcvc.org.
Inclusive Education Resource
The XRCVC has been actively working on research and implementation of Inclusive Education Models specifically for the Indian Context. It has built models that can be easily replicated and scaled and resources that could benefit other organisations, practitioners and persons with disabilities themselves. Below is the effort of the XRCVC to share its knowledge base with the hope that the same will help drive inclusion in various set ups. For any query or assistance feel free to contact us.
STEM Education
STEM (Science, Technology, Engineering, and Mathematics) education is vital to prepare the next generation, often cited as difficult for students with blindness and low vision. It has been a combination of fear, doubt, lack of knowledge, lack of teacher training skills and resources combined; to give the false verdict—It is not Possible! XRCVC actively researches and compiles STEM resources for students with blindness and low vision. It also conducts various STEM training and awareness workshops for students, educators, and other stakeholders.

The following link provides information on diverse options available for students with blindness and low vision to read and write Mathematical and Scientific notations with assistive technologies.
Research Report Released (On Accessible Geometry Construction Kits)
Direct Support & Training
If you are a person with vision impairment or a parent, caregiver or educator feel free to access any of our range of services: Access Technology Support, Training Services : Computers, O&M, English, Life skills, Volunteer Support...
Achieving Access - Advocacy Initiatives
Ensuring environmental access is key in ensuring that vision impairment or loss does not result in a disability. XRCVC's advocacy initiative works in four main areas of print access, financial access, educational access and independent living.
Breaking Barriers - Awareness Initiatives
The biggest barrier in inclusion is the barrier of the human mind. The awareness initiative through mega events, workshops and talks aims at breaking myths resulting from both lack of information and a closed mindset to help individuals...
Useful Information & Quick Links