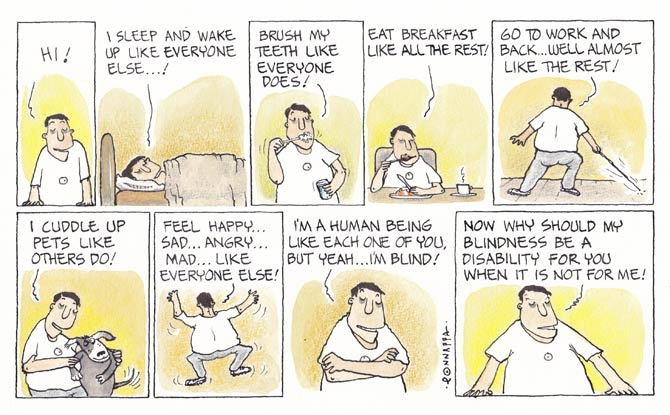 It has been brought to our notice that certain opportunistic & unscrupulous elements have been asking for monetary contributions for the Xavier's Resource Centre for the Visually Challenged (XRCVC), St. Xavier's College; and also in some cases using my name as having authorised their appeal.

We wish to make it amply clear that such activities have not been sanctioned by us and constitute a type of public deception trying to raise money by touching the sympathy of the public for the blind. Please ignore any such financial appeal and draw them to our attention at the earliest by writing to sam@xrcvc.org or calling 022-22623242.

As a policy, we have never solicited any funds through door-to-door or telephonic appeal in the past 15 years of our existence.

Sincerely,
Dr. Sam Taraporevala,
Director,
Xavier's Resource Centre for the Visually Challenged (XRCVC)
Xavier's a Winner as an Enabler!
St. Xavier's College wins the Nipman Foundation Microsoft Equal Opportunity Award in the category of Inclusive Schools - Higher Education.
The Awards are recognised by United Nations Global Compact Network India.
The College has received this award for its "360 Degree Approach to Inclusion" which encompasses our holistic inclusion process from admission to examination.
Direct Support & Training
If you are a person with vision impairment or a parent, caregiver or educator feel free to access any of our range of services: Access Technology Support, Training Services : Computers, O&M, English, Life skills, Volunteer Support...
Achieving Access - Advocacy Initiatives
Ensuring environmental access is key in ensuring that vision impairment or loss does not result in a disability. XRCVC's advocacy initiative works in four main areas of print access, financial access, educational access and independent living.
Breaking Barriers - Awareness Initiatives
The biggest barrier in inclusion is the barrier of the human mind. The awareness initiative through mega events, workshops and talks aims at breaking myths resulting from both lack of information and a closed mindset to help individuals...